First hydrogen-powered crew transfer vessel ready for operation
Windcat Workboats and CMB.TECH in Belgium have unveiled what they describe as the world's first hydrogen-powered crew transfer vessel (CTV).
The vessel, Hydrocat 48, is ready for operation after successful completing trials and bunkering with hydrogen.
CMB.TECH said, "This ground-breaking development reduces conventional fuel use and emissions by up to 80%. Hydrocat 48 introduces clean fuel technology to the already very fuel-efficient Windcat Mk 3.5 design."
Hydrocat 48 takes the Windcat Mk 3.5 design and enhances it with dual-fuel engines supplied by MAN Engines that are capable of burning hydrogen. CMB.TECH has taken a MAN dual-fuel engine (the MAN D2862 LE428) and retrofitted it with a hydrogen injection system.
The introduction of the dual-fuel CTV follows the earlier development by CMB.TECH of a hydrogen-powered passenger shuttle.
Windcat Workboats managing director Willem van der Wel said, "This vessel offers the industry a cost-effective solution to significantly reduce emissions. It can be applied on any windfarm today.
"This solution is a stepping stone to fully hydrogen-powered CTVs. Starting with dual-fuel combustion engines, we can make hydrogen technology operational in the industry and kick-start the further development of the technology, its regulation and the development of the supply chain."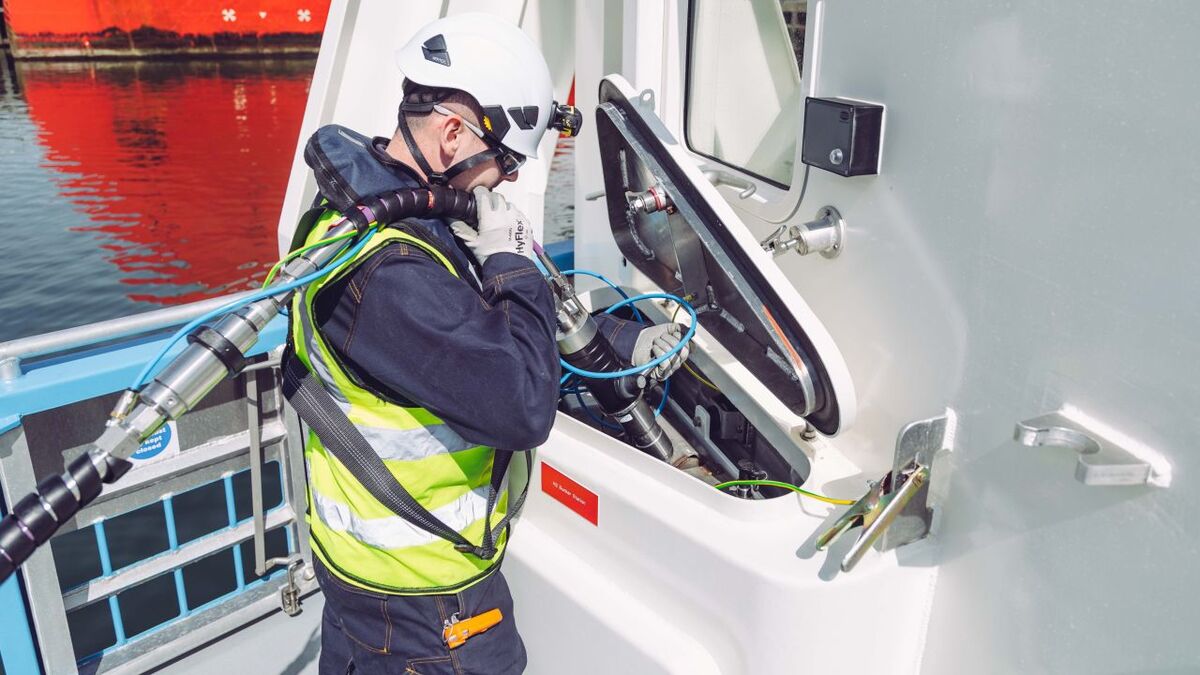 CMB.TECH chief technology officer Roy Campe said, "The suitability of this technology for a CTV lies in the fact that existing diesel engines can be used.
"No fundamental changes to the main engines are required, which not only means that maintenance and repair remains straightforward, but also that the engine can easily be switched back to diesel fuel without any modification.
"Even if hydrogen is not available, the vessel can continue to run on conventional fuel, making it a very robust and reliable solution for the offshore wind industry."
CMB.TECH and Windcat Workboats said they are working to optimise the technology such that it will eventually be possible to use hydrogen as a monofuel option.
They acknowledge the hydrogen supply chain needs to grow to become readily accessible in more locations. "There is a significant shift towards hydrogen applications, and it is expected the hydrogen supply chain will develop in the coming years," they said.
CMB.TECH and Windcat have also developed solutions for the supply of hydrogen to the vessel and CMB.TECH has designed a 12-m, 500-bar trailer for refuelling.
In its joint venture with TSM and FRS, Windcat Workboats has three more vessels under construction that can be delivered with the hydrogen technology and more CTV designs using the technology are being developed.