VALLIANZ CHOOSES ULSTEIN FOR HYBRID HEAVY TRANSPORT VESSEL
Singapore-based Vallianz Holdings Limited contracted Ulstein Design & Solutions BV for the development of their new, hybrid heavy transport vessel (HTV). The new vessel, a customised ULSTEIN HX120 design, will be unique as it will feature dual-fuel engines and a battery energy storage system.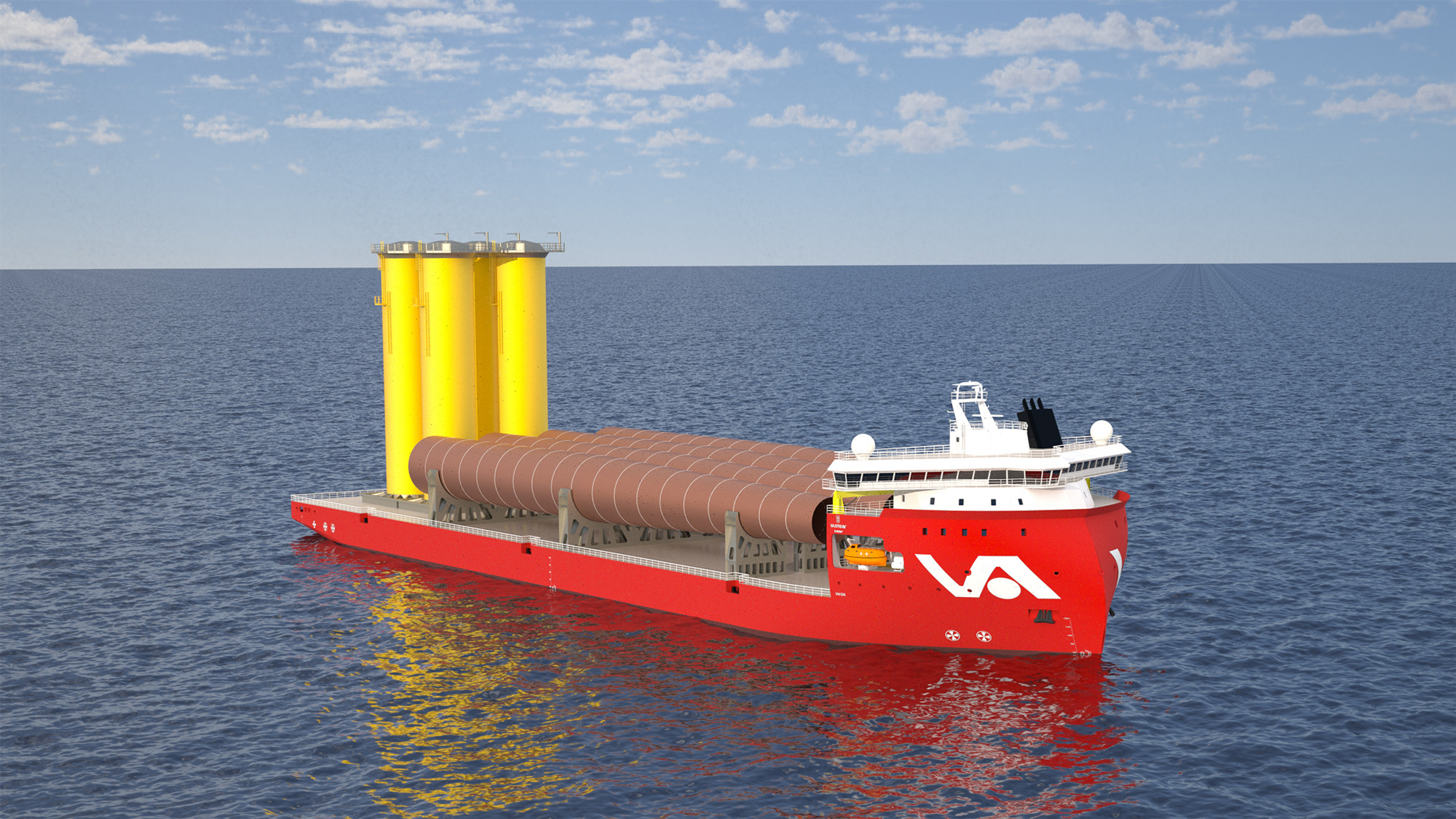 Designed for worldwide operations, the HTV will serve the growing transport demand in the offshore wind industry as well as for LNG modules and offshore structures. Her dimensions are optimised to support Vallianz's business case for not only transporting wind structures like monopiles, jackets, transition pieces and turbine blades, but also to carry out floatover operations of offshore structures.
ZERO-EMISSION CAPABILITY
Featuring zero-emission capability, the DP-2 vessel will be the first of its kind, as it will be driven by a hybrid power system consisting of dual-fuel engines and a battery energy storage system. The HTV's electric battery system is to be provided by Canadian-based Shift Clean Energy, where Bureau Veritas will be responsible for the overall classification of the vessel.

Vallianz's new HTV will feature the proven ULSTEIN X-BOW®, contributing to reduced energy consumption, as well as to more comfortable and safer operations when sailing through waves.

STRONG SHIP DESIGN POSITION IN OFFSHORE WIND
"Since 2010, offshore wind has been a focus market for Ulstein", says Cathrine Kristiseter Marti, CEO of Ulstein Group. "With our track record in SOVs, heavy lift vessels and rock installation vessels, we have built up a strong position as a ship designer supporting offshore wind installation and maintenance."

"Our strategy is to expand into vessels supporting offshore wind logistics", adds Edwin van Leeuwen, Managing Director of Ulstein Design & Solutions BV, "where our ambition is to become the preferred designer for these types of vessels. We are grateful to Vallianz for placing their trust in us and we see this agreement as an important milestone in our strategy."

To mark the collaboration, representatives from Vallianz, Ulstein, Shift and Bureau Veritas attended a signing ceremony at Ulstein's design office in Rotterdam, the Netherlands.

string(4) "post"